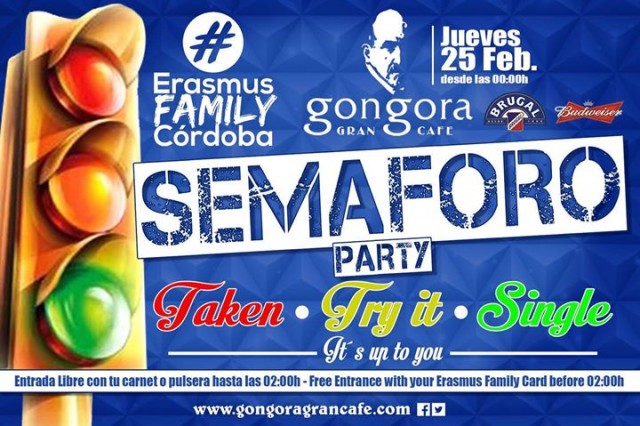 [English below] Llega la semáforo party!!! En esta fiesta cada uno elige una pulsera de un color: Rojo, Amarillo o Verde, dependiendo del mismo podrás saber el estado sentimental de esa persona;)
▲▼▲GREEN: I'm single!!!
☻☻☻YELLOW: ..ehhmm, I don't know.. It's complicated!!
♣♣♣ RED: Sorry.. I've boyfriend/girlfriend!!
También puedes vestirte de ese color, de todas formas no os preocupeis porque nosotros ya tenemos preparadas las pulseras fluorescentes 🙂
Entrada libre hasta las 02:00 con tu carnet o pulsera!!!!!
Eres Verde…Déjate conquistar…Amarillo? A ver q sorpresas te llevarà la noche…Rojo?…lejos de los ojos… lejos del corazón.. ♂♂♂
¿TE LO VAS A PERDER?
Be ready for the next party: Fiesta del semáforo!!! In this party each one choose a bracelet: Red, yellow or green, depending on the emotional state of the person;)
▲ ▼▲ GREEN: I'm single !!!
☻☻☻YELLOW: ..ehhmm, I don't know .. It's complicated !!
♣♣♣ RED: Sorry .. I've boyfriend / girlfriend !!
You can also dress in that color, anyway don't worry because we have already prepared FLUOR bracelets 🙂
02:00 Free entry with your erasmus family card or bracelet !!!!!
Grren … Let yourself be conquered … yellow? See what surprises will take the night … Red? … Away from the eyes … out of heart .. ♂♂♂
ARE YOU GOING TO MISS IT?
Más Información