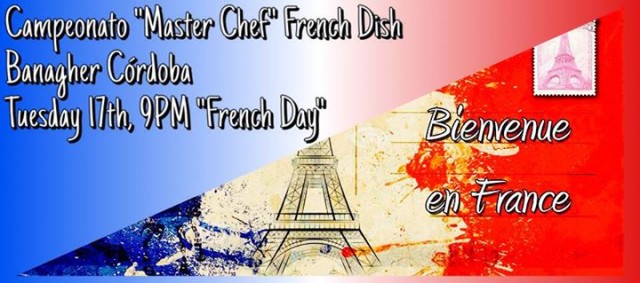 ★★★ 15º ANNIVERSARY OF BANAGHER ════ CAMPEONATO «MASTER CHEF» FRENCH DISH ★★★ «Tuesday February 17th, 9PM» French Week ▆ Banagher Córdoba
LOVELY FRIENDS,
During the French Week, Banagher Córdoba presents The 2nd «MASTER CHEF» FRENCH DISH CHAMPIONSHIP!!
▮ What is this?
✔ Cook (IN YOUR HOME) and present in Banagher Córdoba between 9PM and 11PM, A FRENCH DISH.
✔ This contest is INDIVIDUAL.
✔ Each participant will receive a FREE BEER!!
▮ Evaluation criteria!!
✔ Cost
✔ Creativity
✔ Nutrition
✔ Presentation
✔ Taste
▮ Jury!!
✔ Banagher Staff
✔ IESN Staff
▮ Awards!!
✔ 1st Place —> 3 Spirits and an ESN TROPHY
✔ 2nd Place —> 4 Beers
✔ 3rd Place —> 5 Shots
(The prizes must be consumed this day and are not valid for another day)
✔ The winner will be pass to the next round against the Master Chefs of other countries in the following weeks.
★ After the contest, enjoy the best party!! ★
▆▆▆▆▆▆▆▆▆▆▆▆▆▆▆▆▆▆▆▆▆
════ WHEN? ═════════════
✔ TUESDAY FEBRUARY 17TH, 21.00H
════ WHERE?═══════════════════
The best bar in Cordova!!
✔ BANAGHER IRISH PUB
C/ Camino de los sastres nº7
(Junto a plaza costa sol)
14004 Córdoba
ESPAÑA
HASTA PRONTO EN EL MEJOR BAR DE CORDOBA !!
────────────────────────
Contacts :
★ Banagher Córdoba
https://www.facebook.com/banagher.cordoba
https://twitter.com/banaghercordoba
http://instagram.com/banaghercordoba
https://www.youtube.com/channel/UCxEXXcvPbV16QWX8O86DnOA
★ Hugo Viloria
Community Manager
https://www.facebook.com/hugo.r.viloria
Banagher Irish Pub
«Sharing experiences, good moments and smiles from around the world»
Más Información