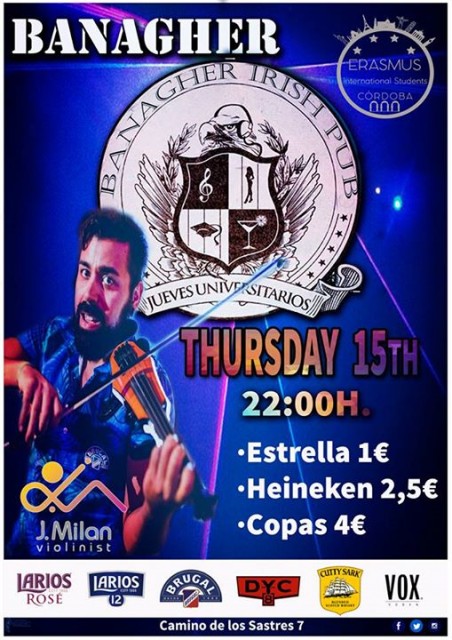 Lovely friends,
This Thursday October 15th, Erasmus International Students Córdobar & Banagher Córdoba Córdoba present The Violinist Live in Banagher Córdoba (EIS Córdoba Official Party).
Banagher is honoured to present J Milán violinist, the talented violinist, who will play LIVE from 10PM.
PLEASE COME AND ENJOY HIS MUSIC WITH US!!
✿EISC MEMBERS✿
✔ FREE ENTRANCE
✔ QUEUE JUMP
✔ 1€ BEER
✔ 2,5€ HEINEKEN
✔ 1€ TEQUILA SHOT
See you on Tuesday 🙂
▒▒▒▒▒▒▒▒▒▒▒▒▒▒▒▒▒▒▒▒▒▒▒▒▒▒▒▒▒▒▒▒▒▒
CONTACTS:
★ Erasmus International Students Córdoba
https://www.facebook.com/pages/Erasmus-International-Students-Córdoba/366859986806059
https://www.facebook.com/groups/erasmusesncordoba/
https://instagram.com/eis_cordoba/
http://erasmuscordoba.org/
★ Banagher Córdoba
https://www.facebook.com/banagher.cordoba
https://twitter.com/banaghercordoba
http://instagram.com/banaghercordoba
https://www.youtube.com/channel/UCxEXXcvPbV16QWX8O86DnOA
Cheers
Erasmus International Students Córdoba & Banagher Córdoba
Más Información