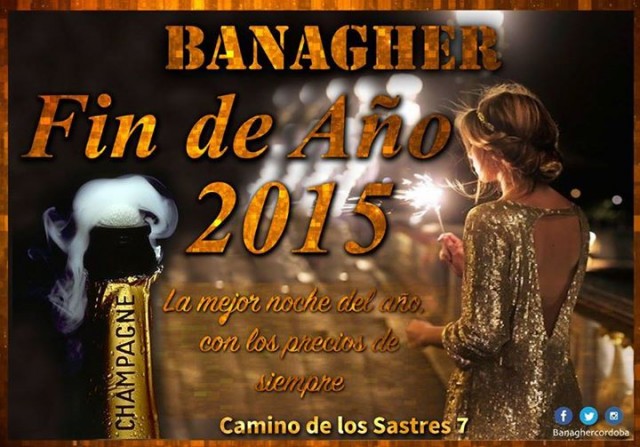 (Spanish below)
Lovely friends,
The 2015 was great but the 2016 even is gonna be much better!! Banagher Córdoba presents the best party of the year and we would like to celebrate with all of you!!
▬▬▬▬▬▬▬▬▬▬▬▬▬▬▬▬▬▬
★——★★★ BANAGHER NYE 2016 ★★★—————★
▬▬▬▬▬▬▬▬▬▬▬▬▬▬▬▬▬▬▬▬▬▬▬▬▬
► Free Entry
► Same Prices of the all year
► Drees Code – CHIC
► J. Martínez DJ
► The best atmosphere
Estimados Amigos,
El 2015 fue un excelente año, sin embargo, el 2016 será mucho mejor aún 🙂 Banagher Córdoba presenta la mejor Fiesta para recibir el 2016 y nos gustaría celebrar y disfrutar la llegada del nuevo año con todos vosotros!!
▬▬▬▬▬▬▬▬▬▬▬▬▬▬▬▬▬▬
★——★★★ BANAGHER NYE 2016 ★★★—————★
▬▬▬▬▬▬▬▬▬▬▬▬▬▬▬▬▬▬▬▬▬▬▬▬▬
► ENTRADA LIBRE
► SE MANTIENEN LOS MISMO PRECIOS DE TODO EL AÑO
► CÓDIGO DE VESTIMENTA – CHIC
► J. MARTÍNEZ DJ
► EL MEJOR AMBIENTE
▬▬▬▬▬▬▬▬▬▬▬▬▬▬▬▬▬▬▬▬▬▬▬▬▬
Contacts :
★ Banagher Córdoba
https://www.facebook.com/banagher.cordoba
https://twitter.com/banaghercordoba
http://instagram.com/banaghercordoba
https://www.youtube.com/channel/UCxEXXcvPbV16QWX8O86DnOA
Banagher Córdoba
«Sharing experiences, good moments and smiles from around the world»
Más Información