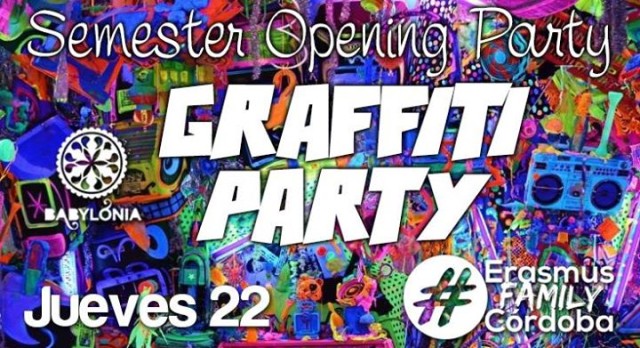 [Español debajo] Erahhmmuuhhhh this thursday we have the «semester opening party»!!!!!! Just bring a white shirt and be ready to paint!!!! We are going to give you the pens! You can buy the white t-shirt at Primark, a very cheap shop.
Free entry with your Family Card or your bracelet!
See you at 00:00!!!
#ErasmusFamilyCórdoba
#OnceInYourLife
————————————————————————-
Erahhmmuuhhhh os presentamos la semester opening party!!!!!! Sólo traete una camiseta blanca (la del cuatrimestre pasado también sirve) y a pintar!!!! Podéis comprar una en el Primark, que es muy barata. Los rotuladores los llevamos nosotros!!!!
Entrada gratuíta con Erasmus Family Card o tu pulsera!
Nos vemos a las 00:00!!!
#ErasmusFamilyCórdoba
#OnceInYourLife
Más Información