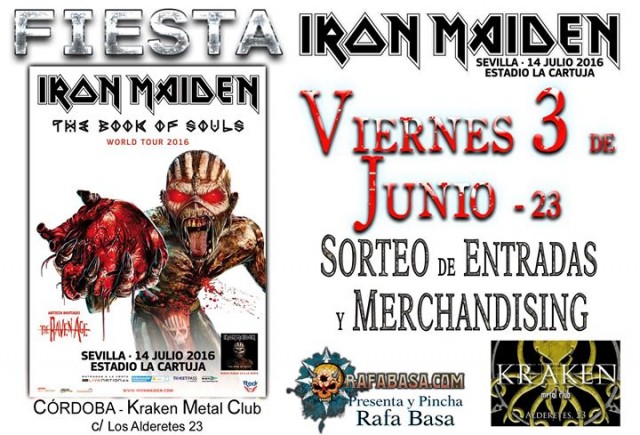 ★★ ★ F I E S T A ★ ★ ★
▬▬▬▬▬▬▬▬▬▬▬▬
★ I R O N M A I D E N ★
▬▬▬▬▬▬▬▬▬▬▬▬
Con motivo de la visita de IRON MAIDEN, dioses indiscutibles del Metal, a nuestra ciudad vecina (Sevilla), LiveNation, Rafabasa.com y Kraken Metal Club traen a Córdoba la FIESTA OFICIAL «IRON MAIDEN: The Book of Souls World Tour 2016».
Un evento incomparable del que iremos actualizando noticias y detalles a lo largo de estos días.
★VIERNES 3 de Junio:
✓ Presenta y pincha RAFA BASA
✓ Desde las 22:00 hasta las 4:00
✓ Sorteo de CUATRO ENTRADAS
✓ Sorteo de MERCHANDISHING de Iron Maiden
Por supuesto, ni siquiera hay que mencionarlo… ¡NO TE LO PUEDES PERDER!
Si ya tienes tu entrada puedes comprar el ticket para el VIAJE ORGANIZADO de Kraken Metal Club. Más información en:
https://www.facebook.com/events/511293999080962/
Más Información