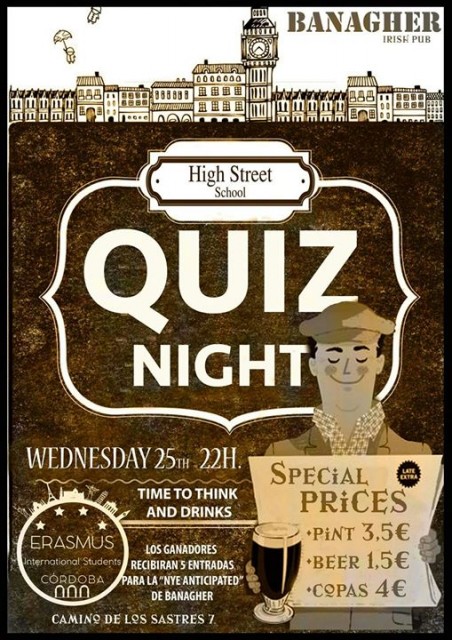 Hi, Spaniards, Erasmus students and everyone else!
You are all invited to the third Quiz Night next Wednesday November 25th at 22:00 in Banagher Irish Pub, next to Costasol in Ciudad Jardín.
For more information, click the «See more» button below.
___
¡Españoles, estudiantes Erasmus y demás!
Estáis todos invitados al tercer Quiz Night de la temporada en el Pub irlandés Banagher, al lado de Costasol en Ciudad Jardín.
Para recibir más información, pinchad en «Ver más».
___
It is organized by the English academy High Street School & Erasmus International Students Córdoba, so in addition to have a good time, enjoy a drink at a special price and maybe be part of the winning team, you'll be able to practice your Spanish and meet new people!
The registration fee is 1€ per person and the teams can range between 1 up to 6 people. All the registration money will go into the final prize (ENTRANCE TICKETS FOR NEW YEAR'S EVE ANTICIPATED PARTY IN BANAGHER AND A VOUCHER FOR DRINKS IN BANAGHER).
Remember! Multicultural teams will obtain extra points!
The Quiz will be held every two weeks and each week there will be a special round featuring different topics.
We'll be waiting for you!
___
Está organizada conjuntamente con la academia de inglés High Street School & Erasmus International Students Córdoba, así que además de pasar un buen rato, disfrutar de consumiciones a precios especiales y quizás formar parte del equipo ganador, también tendréis la oportunidad de practicar vuestro inglés y conocer gente nueva.
Para registrarse habrá que abonar un 1€ por persona, que se destinará al premio final. Los equipos deben estar formados entre 1 y 6 concursantes, y aquellos con integrantes de diferentes nacionalidades tendrán puntuación extra.
EN ESTA OCASIÓN EL PREMIO FINAL SERÁN ENTRADAS PARA LA FIESTA DE FIN DE AÑO ANTICIPADO EN BANGHER Y UN VALE PARA BEBIDAS EN BANAGHER
La Quiz Night se realizará cada dos semanas, y cada semana habrá una ronda especial sobre distintos temas.
¡Os esperamos!
Más Información