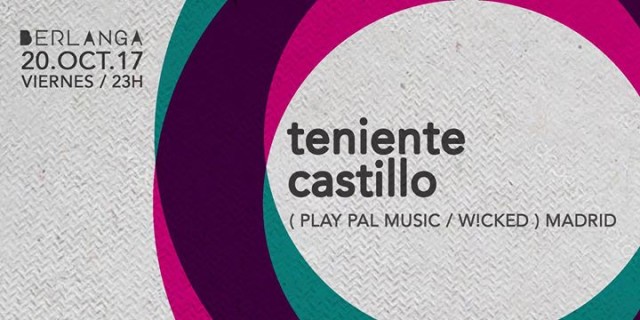 Este viernes 20 estará con nosotros por primera vez el dj/productor madrileño Teniente Castillo, propietario del sello Play Pal Music y responsable de las fiestas W!cked ,todo con base en Madrid también.
Por aquí os dejamos info respecto a algunas cosas sobre su bio; artistas que publican en su sello,sellos en los que él ha publicado sus trabajos,paises en los que ha tocado..etc..y algún link de algunas de sus páginas en redes sociales.
ENTRADAS EN TAQUILLA 5€ + CERVEZA // 8€ + COPA
Owner and manager of Play Pal Music, Teniente Castillo has been djing for over 20 years, involved in all kinds of musical projects, residencies and venues, both in Madrid and away from Spain's capital, like recently tours in Chile, Mexico or visits to La Dame Noir's Club in Marseille or a Play Pal Night at Berlin's finest 'Kater Blau'.
For his label he's counted with great artists such as Vox Low, Tronik Youth, Damon Jee, Pete Herbert, Duncan Gray, Thomass Jackson, Fkclub, Future Bones, Club Bizarre, Squarewave or Mushrooms Project among many others.
Focused now also on his own music production, he's released several remixes for labels such as Nein Rec, Tici Taci and his own imprint, Play Pal Music, receiving great feedbacks on all of them. During 2017 will be out an ep on Nein, a new track on Dogs & vultures Comp., a remix for Playground Rec and a new original feat. Skelesys on Curses's label, Ombra International.
As Promoter and Resident Dj, he's been consistently behind different venues. Highlights from all of them, Wonky and Wicked (2009 – 2012 and back again since 2016) with guests like Ashley Beedle, Beppe Loda, Bonar Bradberry, Bottin, Chicken Lips, Crazy P, Dicky Trisco, Faze Action, Marcello Giordani, Pete Herbert, Ray Mang, Rodion, Stevie Kotey, Tim Sweeney and Psychemagik among others and his Play Pal Nights at the club Evaristo where he's shared the decks with good friends and great artists such as Duncan Gray, David Shaw, Mijo, Club Bizarre, Tronik Youth, Thomass Jackson or Damon Jee among others.
@ Teniente Castillo
@ Play Pal Music
Más Información