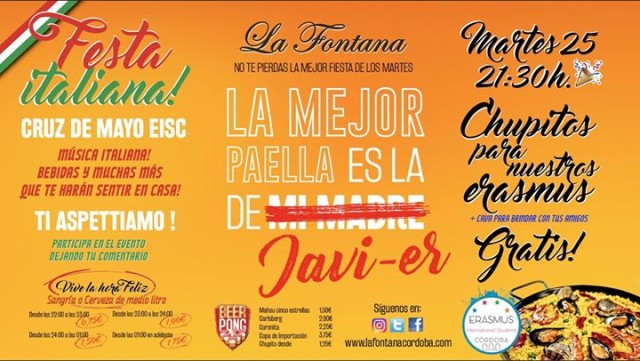 ¡¡¡ERASMUS!!!
¿Se te hace duro el inicio de semana? Ya sabrás que te traemos la mejor paella que probarás en Córdoba y la mejor fiesta de los martes, pero esta vez con un aire muy italiano fusionado con nuestras tradiciones.
Están a punto de empezar las Cruces de Mayo, una de las celebraciones más típicas de nuestra ciudad, donde en los patios y plazas se levantan cruces decoradas con flores rojas y macetas. En las mismas se instalan barras donde se sirven tapas y bebidas que se amenizan con música y espectáculos flamencos.
Coincidiendo con nuestro martes y aprovechando que el 25 de abril se celebra en Italia la "Festa della Liberazione", una fiesta nacional que en muchas ciudades de Italia es celebrada también con motivos florales, desde EIS Córdoba hemos pensado unirnos a la celebración de la mayoría italiana en nuestra ciudad mezclándola con nuestra tradición en una Cruz de Mayo tricolori, decorada con flores que representarán la bandera italiana. Además de ello tendremos bebidas típicas y música italiana, podéis dejarnos las sugerencias musicales que queráis incluir en la playlist de esta noche en los comentarios del evento. TI ASPETTIAMO !
ERASMUS!!!!
Does the start of the week get you down? Well, we have the answer. Every Tuesday we bring you one of the best paella's Cordoba has to offer. This week we're going to mix things up a bit and add some Italian style to our usual Tuesday fiesta.
One of Cordoba's most typical celebrations, Cruces, is about to start. The patios and squares of our city will be transformed with the introduction of crosses adorned with red flowers and beautiful potted plants. Next to these are bars serving drinks and tapas which you can enjoy while dancing and listening to traditional music.
All of this coincides with April 25th, "Festa della Liberazione", a national holiday celebrated in Italy. As many Italian cities use flowers to mark this day, we thought to mix the two celebrations and so this Tuesday we'll bring you our very own Cruz de mayo, decorated with flowers representing the Italian flag. In addition, there'll be typical Italian drinks and music – we welcome your suggestions in the comments below to add to our playlist! TI ASPETTIAMO!!!
Más Información