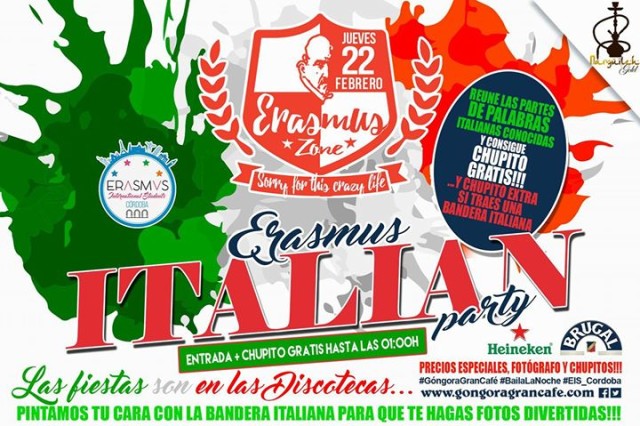 ENGLISH BELOW
📢📢 ERASMUS 📢📢
Este jueves… Erasmus Italian Party en Gongora!! 🎉🎉🎉
¡¡Reúne las partes de las palabras en italiano más conocidas y consigue chupitos gratis y otro chupito extra para quien traiga una bandera italiana!! 🇮🇹
🇮🇹🇮🇹¡¡Pintamos tu cara con la bandera para que te hagas fotos divertidas!! 🇮🇹🇮🇹
¡¡Precios especiales, fotógrafo y chupitos!!🍹🍹
Hasta las 2:
🍺Cerveza🍺 – 2 €
🍹Copa🍹 – 5 €
🍷Chupito🍷 – 1 €
🕖 Entrada y chupito gratis hasta la 1:30h para nuestros socios. 🕖
¡¡Sed puntuales!!
"Las fiestas son en las discotecas…"
"Sorry for this crazy life"
#GongoraGranCafé
#BailaLaNoche
#EIS_Cordoba
————————————————————————
📢📢 ERASMUS 📢📢
Next Thursday we have… Italian Party in Góngora!!
Look for the most popular Italian words and get free shots. You'll get an extra shot if you bring an Italian flag!!🇮🇹
🇮🇹🇮🇹You can also paint your face to take funny pictures!!🇮🇹🇮🇹
Special prices, photographer and shots!!🍹🍹
Until 2 am:
🍺Beer🍺 – 2 €
🍹Drink🍹 – 5 €
🍷Shot🍷 – 1 €
🕖 Entrance and a free shot until 1.30 am for our members. 🕖
Be punctual!!
"Las fiestas son en las discotecas…"
"Sorry for this crazy life"
#Góngoragrancafé #BailaLaNoche#EIS_Cordoba
Más Información