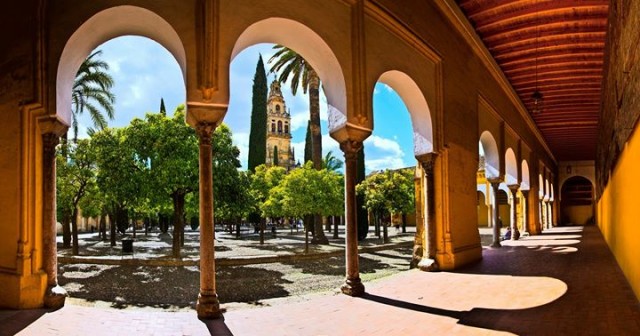 Experiencia Vivees is a language and cultural Spanish immersion programme: people studying Spanish from anywhere in the world and Spanish native teachers, travelling together for a few days in Southern Spain, "living an experience in Spanish"
PROGRAMME DETAILS
Dates: From March 22 to March 27, 2015 – CORDOBA (6 days, 5 nights)
Location: Cordoba ( Spain)
Meeting Point: Hotel La boutique puerta de Osario March 22 18:30h
http://www.experienciavivees.com/english/cordoba-experience/cordoba-sevilla-natural-park-march-22-2015-6-days-390/
First Day – Sunday 22
Arrival at the Exe Conquistador hotel between 14:00 and 18:00. Room assignments will be given upon your arrival at the hotel. At 18:30h we will meet in the hotel Lobby for a presentation of the program and for all the program participants to introduce themselves to each other. Afterwards we will go for a walk around the city center of Cordoba.
Second Day
Breakfast. Tour of downtown Cordoba. Visit the Roman bridge, the mosque and the Cathedral of Cordoba, the Jewish quarter, synagogue, the Naranjos Courtyard. Lunch at a restaurant in Cordoba, in the afternoon visit "los patios" (courtyards).
Third Day
Breakfast. Transfer by bus to the archeological compound of Medina Azahara. Tapas lunch in Cordoba. Visit to the Caballerizas Reales (Royal Stables) in the afternoon.
Fourth Day
Breakfast. Transfer by bus to Seville. Full day visit to Seville: Plaza de España, Torre del Oro, Santa Cruz neighborhood, Cathedral, Guadalquivir river.
Fifth Day
Breakfast. Trip to Natural Park of Montoro and Cardeña. We will learn how olive oil is produced and visit "la dehesa" a unique ecosystem where Spanish Iberico ham is produced. Traditional lunch of ibericos ( Spanish ham, chorizo, lomo etc) in Cardeña.
Sixth Day – Friday 27
Breakfast. Check-out of hotel and departure of participants. End of the program.
Price includes:
Experiencia vivees
– Coordination of Small group of 8 persons (6 spanish students and 2 Spanish native teachers)
– Transport and coordination of all the excursions and tours detailed in the program.
-12 hours of conversation, daily, in Spanish with other spanish student and with native Spanish teachers.
– Tikets to the monument that will visist in the excursions.
Hotel
– Accommodation for 5 nights at the four-star Hotel Exe Conquistador, in a individual room with private bathroom. Cost of the hotel is 65€/night with Breakfast, total 325€ ). We reserve the room for you when you pay the program, and you will pay it in the hotel at the end of the trip.
Meals
– Luch and Dinner. We will eat diferent tapas in diferent restaurant each day, it cost 15€/each meal.
Our program does not include:
– Airfare, or any other mode of transport, to get to and from your place of residence to the meeting point ( the best airport is Malaga or Madrid and then a fast train to Cordoba ).
Más Información