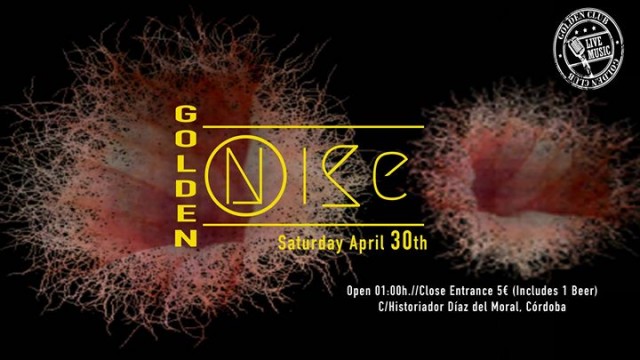 NOISE en su edición nocturna presenta GoldenNOISE #3. Después de consolidar el éxito en la primera y segunda edición de GoldenNOISE, el Sábado 30 de Abril volvemos a Golden Club.
En esta ocasión, después de haber disfrutado de las «Cruces de Córdoba», podrás disfrutar de las sesiones de nuestros DJ's residentes fundadores de NOISE.
La entrada es a partir de 00:00 de la noche del Sábado, con un precio de 5€, incluyendo una cerveza.
▬▬ DJ's Line up: ▬▬
► Neil SJ S —————> England
Passionate about Electronic dance music and love sharing my passion with others, hope you enjoy my mixes on here,
https://www.mixcloud.com/neilsalinas1/
► Sine ————–> Belgium
From Tomorrowland to Córdoba, playing from techno to psychedelic trance… A Belgian producer that lost his heart in the making and playing of music
► High Vibes ————–> Mexico
My name is Hugo Viloria, a.k.a. High Vibes DJ and House&Techno Producer, I was born in Mexico City in 1984 and since 2007 I have been living in Cordoba Spain. My main aim is to make people dance and enjoy House and Techno Music.
https://soundcloud.com/hv_highvibes
Cheers!!
▬▬▬▬▬▬ NOISE ▬▬▬▬▬▬
https://www.facebook.com/noisemovement/
https://twitter.com/noise_cordoba
https://www.instagram.com/noisecordoba/
https://www.youtube.com/channel/UCRGHqzvOozLdQynPzQHCziA
https://vimeo.com/noisecordoba
https://www.mixcloud.com/NoiseCordoba/
Más Información