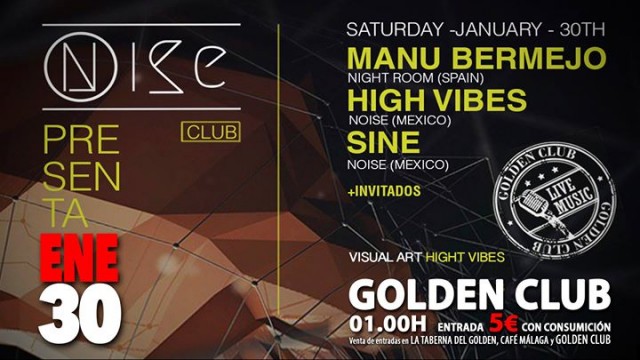 NOISE ha empezado un nuevo proyecto y movimiento en Córdoba. #GoldenNOISE es un evento que se realiza en el Golden Club.
En su primera edición, #GoldenNOISE presentará visuales por parte de High Vibes y sesiones de música underground por diferentes DJ's Internacionales.
► High Vibes ————–> Mexico
My name is Hugo Viloria, a.k.a. High Vibes DJ and House&Techno Producer, I was born in Mexico City in 1984 and since 2007 I have been living in Cordoba Spain. My main aim is to make people dance and enjoy House and Techno Music.
► Manu Bermejo ————–> Spain
Colors, sounds and feelings… Audiovisual art: a universe that expands itself trough mind. It's about understanding the endless possibilities and sow sequences in order for the productions to be created and grow. He published his work not only in national record companies, but in some international ones too. Nonconformist investigator of technique, you can notice his energy and interaction with the public during his performances. He is an explosive mixture for his DJ's, his sets, and live acts.
► Sine ————–> Belgium
▬▬▬▬▬▬ NOISE ▬▬▬▬▬▬
www.facebook.com/noisemovement/?fref=ts
Entrada: 5 €, incluye una consumición
Disponibles en Golden Club, Café Málaga – Live Music y La Taberna del Golden
Más Información