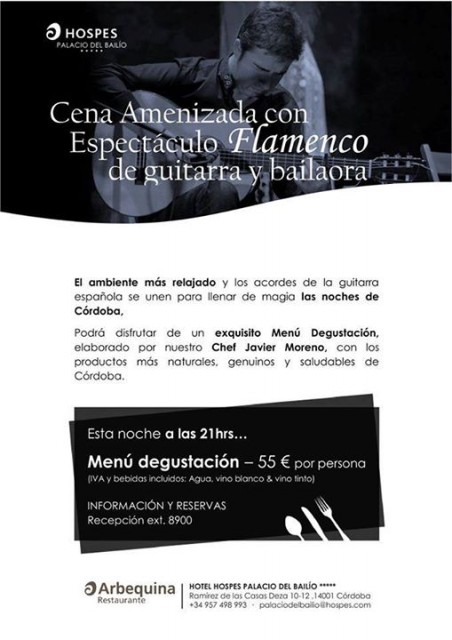 Cena Amenizada con Espectáculo Flamenco de guitarra y bailaora.
AGOSTO:
> Jueves, 4
> Miercoles, 10
> Lunes, 15
> Jueves, 18
> Lunes, 22
> Jueves, 25
> Miercoles, 31
Menú degustación con acordes de guitarra española
El ambiente más relajado y los acordes de la guitarra española se unen para llenar de magia las noches de Córdoba,
Podrá disfrutar de un exquisito Menú Degustación, elaborado por nuestro Chef Javier Moreno, con los productos más naturales, genuinos y saludables de Córdoba.
Menú degustación – 55€ por persona
(IVA y bebidas incluidos: Agua, vino blanco & vino tinto)
————————————————————————————-
Live Flamenco guitar & dancing dinner show
Most relaxing environment combined with Spanish guitar chords to enjoy a delightful time during the nights in Córdoba.
You will enjoy an exquisite tasting menu with the most unique, healthy and natural products from Córdoba, prepared by our Chef Javier Moreno.
Tasting menu – 55€ per person
(VAT and beverages included: water, white wine & red wine)
Leer+: http://www.hospes.com/es/cordoba-palacio_bailio/experience/viewItem/711/noches-de-guitarra-española-experience.html
Más Información