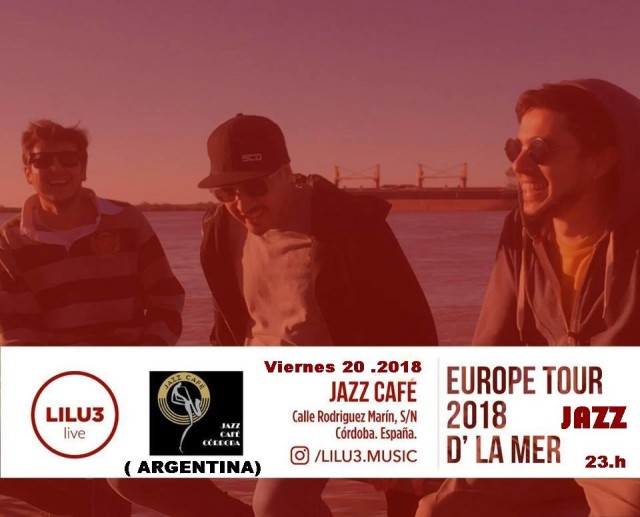 Lilu3 es un trío de jazz de Rosario, Argentina, liderado por el pianista/bajista/compositor Lilu Montedo con tres años de actividad en escenarios rosarinos. Atraviesa una gira por 15 ciudades europeas compartiendo su disco «D' la Mer» que mezcla jazz con rítmos autóctonos argentinos y emplea sonoridades que están a la altura de un momento de cambios constantes en el planeta.
Lilu3 is a jazz trio from Rosario, Argentina, led by pianist / bassist / composer Lilu Montedo with three years of activity in Rosario's stages. He goes through a tour of 15 European cities sharing his album «D 'la Mer» that mixes jazz with native Argentine rhythms and employs sonorities that are at the height of a moment of constant changes on the planet.
Lillu3 est un trio de Jazz originaire de Rosari en ARgentine. Dirigé par le pianiste/ bassiste et compisteur Lilu Montendo, il a joué sur les scènes de Rosario durant 3 ans. Le groupe part pour une tournée de 15 villes Européennes pour partager son Album » D'la Mer» qui allie le jazz avec les rythms natifs d'Argentine et utilise des sonorités à la hauteur d'une époque de changements constants sur la planète.