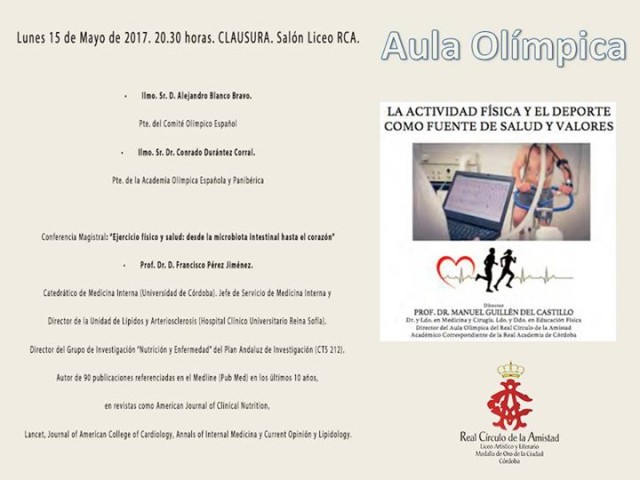 Lunes 15 de Mayo de 2017. 20.30 horas. CLAUSURA. Salón Liceo RCA.
• Ilmo. Sr. D. Alejandro Blanco Bravo.
Pte. del Comité Olímpico Español
• Ilmo. Sr. Dr. Conrado Durántez Corral.
Pte. de la Academia Olímpica Española y Panibérica
Conferencia Magistral: "Ejercicio físico y salud: desde la microbiota intestinal hasta el corazón"
• Prof. Dr. D. Francisco Pérez Jiménez.
Catedrático de Medicina Interna (Universidad de Córdoba). Jefe de Servicio de Medicina Interna y Director de la Unidad de Lípidos y Arteriosclerosis (Hospital Clínico Universitario Reina Sofía). Director del Grupo de Investigación "Nutrición y Enfermedad" del Plan Andaluz de Investigación (CTS 212). Autor de 90 publicaciones referenciadas en el Medline (Pub Med) en los últimos 10 años, en revistas como American Journal of Clinical Nutrition, Lancet, Journal of American College of Cardiology, Annals of Internal Medicina y Current Opinión y Lipidology.
Presenta:
Dr. Manuel Guillén del Castillo, director del Aula Olímpica del Real Círculo de la Amistad,
Más Información