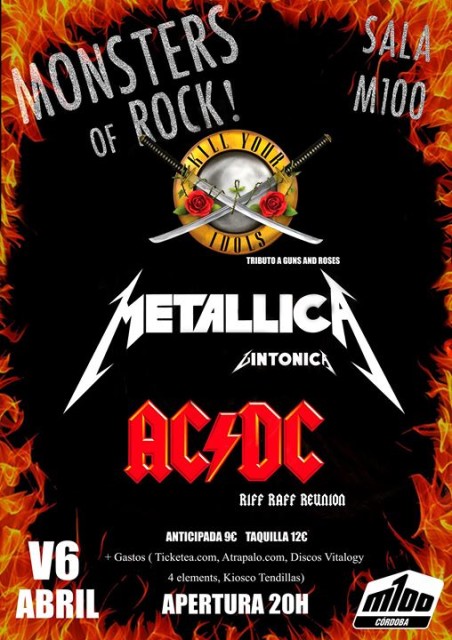 VIERNES 6 ABRIL
FESTIVAL DE TRIBUTOS ROCK:
GINTONICA BAND (TRIBUTO A METALLICA)
RIFF RAFF REUNION (TRIBUTO A ACDC)
KILL YOUR IDOLS (TRIBUTO A GUNS AND ROSES)
Revive este auténtico MONSTERS OF ROCK con el tributo a estas tres míticas bandas. Himnos que se han hecho indispensables y una puesta en escena espectacular. No te pierdas esta oportunidad única!!
Entradas anticipadas 9€ + g.d. (ticketea.com, atrapalo.com, Discos Vitalogy, 4 elements, Kiosco Tendillas),
Taquilla: 12€
SALA M100 – CÓRDOBA. Apertura de puertas 20:00h
Más Información